Casamania at Salone del Mobile.Milano 2018
Casamania approaches the residential market with Spectro sideboard
Casamania was founded in 1984 creating products for the Contract sector. Over the years the catalogue has evolved and proposes a collection of iconic and avant-garde products also for the Home market. In 2017 the brand became part of the Horm group. This led to a partial revision of current offerings and of future strategies.
The revision of current offerings proposes to create a dialogue between Casamania and Horm within the residential market, through the introduction of new colors, new veneer finishes and new products that are more in keeping with the group's reference target. This work is represented at the Salone del Mobile 2018 with:
– presentation of the Spectro sideboard, created by the prestigious Swedish designers Claesson Koivisto Rune;
– new brand identity;
– new color palette;
– introduction into the collection of gloss lacquers and a new veneer, Canaletto walnut.
Future strategies foresee a return to origins, developing the catalogue for the Contract sector, with a reference target that is more transversal with respect to the Horm brand. The idea is to create a break in the name of continuity, which will be more visible with the publication, by 2018, of the new catalogue.
SPECTRO
Design / Claesson Koivisto Rune, 2018
Spectro arises from the idea of ​​giving shape and volume to light. However, since it is not possible to reproduce it as a color, it has been fractured into a spectrum of refined and elegant shades, giving it a stage presence in a play on rhythms and shapes. And just like light which transforms every surface that it illuminates, Spectro transforms environments and adapts to every space with infinite combinations, as if the light were being fractured by a prism of one's personal taste.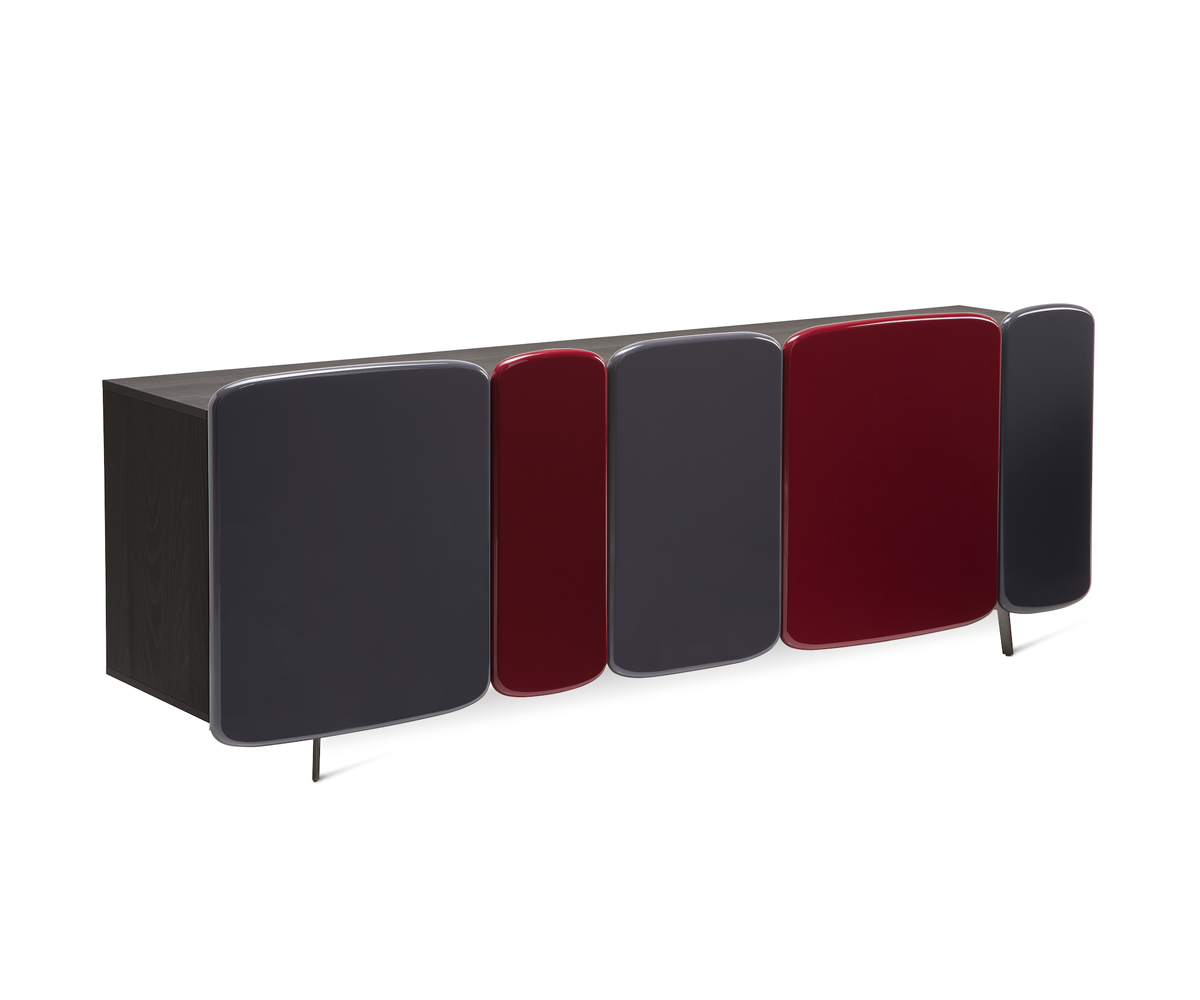 Materials and finishes
Body: Mocha stained beech / Whitened beech / Bois blond stained beech / Matt lacquered / Glossy lacquered.
Doors: Made in shaped MDF with soft and sinuous curves and matt or glossy lacquered, even of different colors.
Base: Vintage burnished metal base, with a Mid-Century Modern style or white or black Horm base, H 16cm, minimal and squared.
Dimensions
3 doors / cm 144x49x80 (body) 87 (doors) H
4 doors / cm 192x49x80 (body) 87 (doors) H
5 doors / cm 240x49x80 (body) 87 (doors) H
All these variants, which can be combined together, make Spectro a storage piece with infinite color customization possibilities and a product with unlimited versatility, always able to excite.
NEW FINISHES AND VENEERS
The new palette of lacquered colors is rich in warm and sensual nuances and is flanked by the introduction of a new veneer, Canaletto walnut, in the products within the collection. The new lacquered selection, also available in a glossy version, transmits both visual and tactile emotion and pleasure, in line with the new stylistic direction that the brand intends to pursue. The introduction of Canaletto walnut, together with oak, amplifies the versatility of the products and the areas of taste.

New version of STEREO WOOD
Design / Luca Nichetto, 2011
New version with Canaletto walnut legs which enhance the natural refined nature and elegance of the product and make Stereo Wood an even more versatile and appealing chair, capable of instilling pleasure by looking at it and comfort through its use.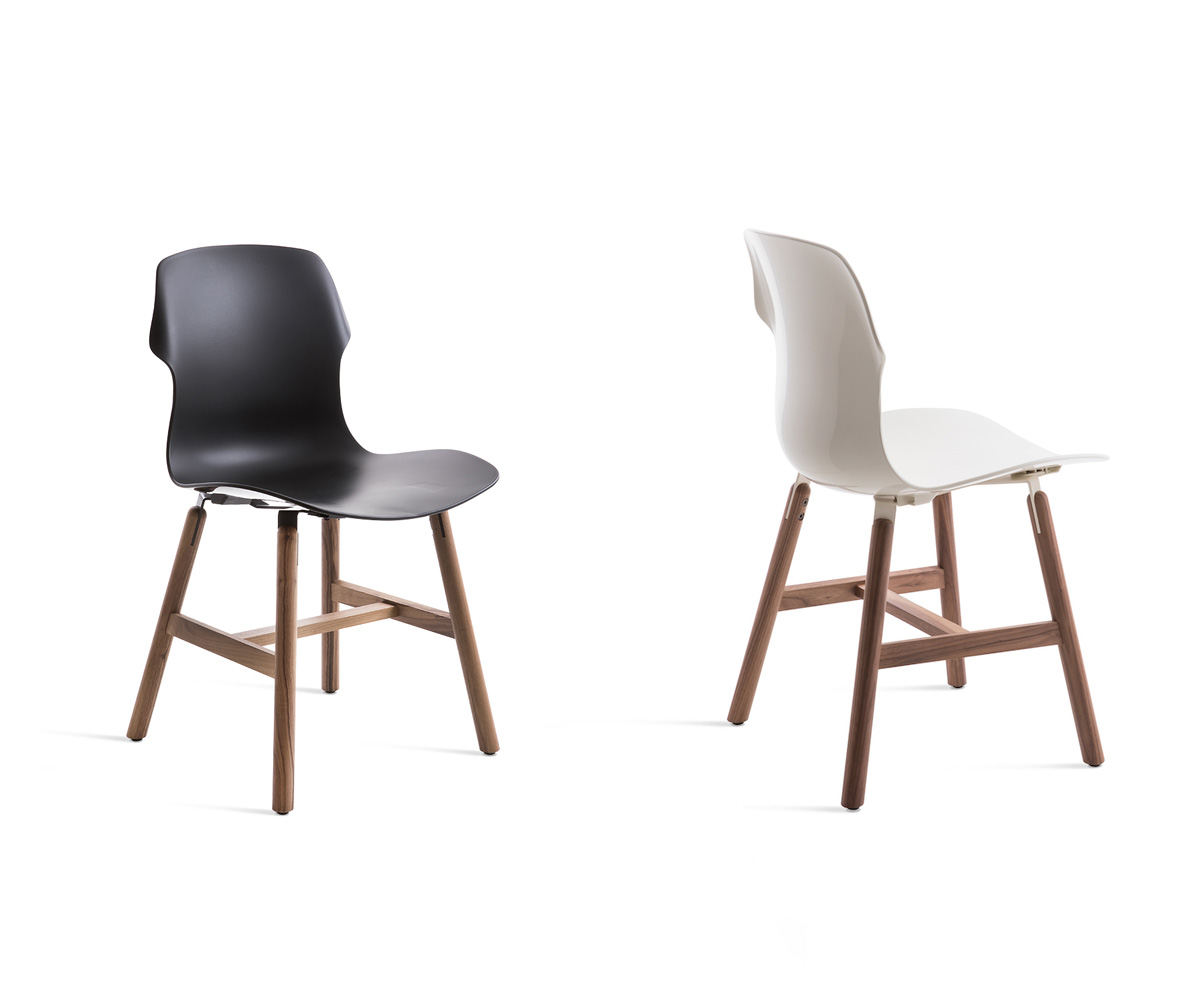 The polypropylene body is glossy in the back and matt in the front. It can be padded and upholstered in fabric or leather, either in the front or completely.
PRESS OFFICE CASAMANIA / Horm Italia Srl / T. +39 0434 1979 101 / marketing[@]casamania.it