Red Dot Award 2016
Horm wins the Red Dot Award / Winner 2016 with the Quadror™ 03 table designed by Dror Benshetrit.
Essen, March 30, 2016. A jury of experts awarded the "Red Dot Design Award – winner 2016" to the QuaDror™03 table, designed by Dror Benshetrit for HORM, rewarding the unconventional design, choice of materials and high degree of technological innovation.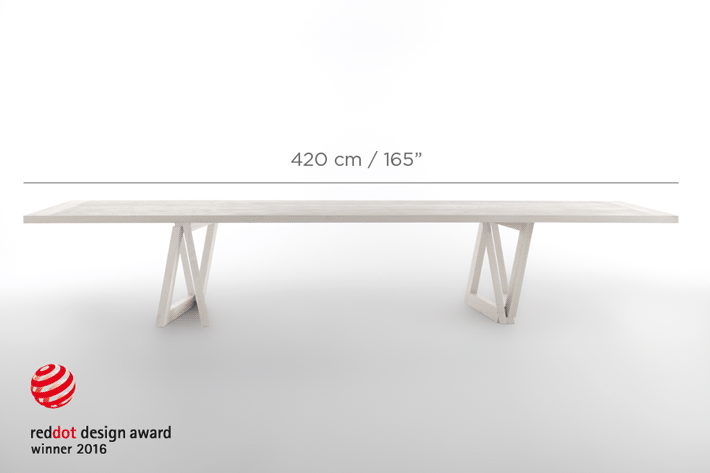 This prestigious award is given to HORM.IT, multi-award-winning brand of Made in Italy design, by a jury of more than 40 experts from various fields of international design (professionals, design and specialized press teachers).
"We are truly honored to receive this award which confirms once again HORM's ability to know how to combine design, technology and functionality. Today we believe that design should offer not only unique products that are rich in personality, but also functional and credible products. The research should never be an end in itself, but should be the path for creating products that were unthinkable before. When this constructive and design philosophy meets a brilliant idea like that of Dror Benshetrit, the result is unique and the Red Dot Award for our table just goes to confirm this. We are pleased to share this prestigious award with the designer who built it" said Renato Zamberlan, art-director / co-owner of the company.
QuaDror ™ is not just a table, but an entire collection consisting of table, living room table, bookcase and sculpture, for which "03" is the flagship. While he was building a frame composed of two intersecting surfaces, Dror discovered that when cut strategically these surfaces can be locked geometrically to make a powerful union. This finding led to QuaDror ™, a structural supporting element which, when open, creates an independent triangular base, a new shape with infinite applications which are only limited by your creative imagination.
The QuaDror™ 03, initially designed for large dining rooms, quickly displayed its corporate calling by becoming the "perfect conference table", being customizable in size and easily wired. The load-bearing structure in solid ash and ash veneered top in honeycomb spruce can be chosen in the whitewashed versions or stained mocha.