Horm at IMM Cologne 2016
Unique Furniture for Unique People
At IMM Cologne 2016, HORM.IT presents:
1. The new brand payoff
2. The QuaDror™ collection with a new range of materials
3. Carlos: new finishes for yet another best-seller
4. Sinapsi: modularity as a form of creative expression
1. THE NEW BRAND PAYOFF
The payoff launched in 2015 at the Milan Salone del Mobile entitled "Unique Furniture for Unique People" sums up the company's philosophy of creating functional and innovative products from a technical and material standpoint, which arouse emotions and contain surprising elements. Our creations are designed for discerning customers with a strong personality – those who don't follow the trends, but set them.
2. THE QUADROR™ COLLECTION WITH NEW A RANGE OF NEW MATERIALS
Following its enthusiastic reception in 2015 at the Milan Salone del Mobile and at Wanted Design in New York, HORM.IT is now in Cologne, presenting this fascinating collection made possible through the holistic approach of designer Dror Benshetrit.
While working on the construction of a frame made up of two intersecting surfaces, Dror "stumbled upon" a fascinating discovery: when cut strategically, both surfaces could be fixed into place geometrically to form a powerful union. This led to QuaDror™, a structural element which, when open, creates an independent triangular base: a new form of infinite applications. The only limit is your own imagination.
Constantly striving towards innovative solutions, HORM.IT discovered the undeniable effectiveness of QuaDror™ when applied to furnishings, and gave rise to a new collection of furniture. The simple genius of the structural system is expressed through pure and sophisticated materials such as ash, raw metal, and glass. QuaDror™ structures replace trestles in tables and form a faceted sculpture-bookcase made up of a series of repetitions of the component, which in turn is made up of a repetition of four equal, geometric surfaces.
At IMM Cologne 2016, HORM.IT is presenting two pieces of the collection:
QuaDror™04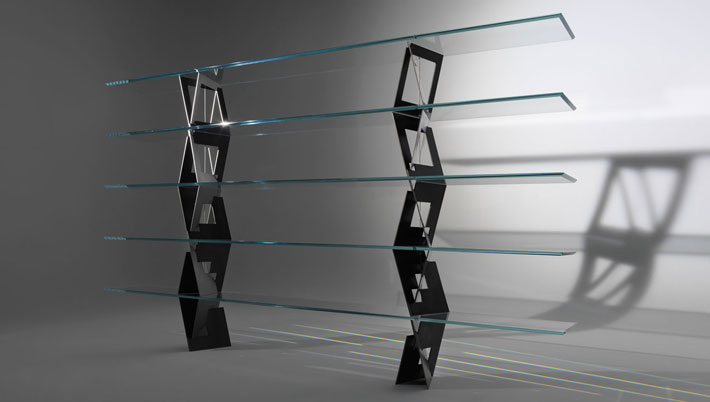 A free-standing sculpture bookcase, designed specifically for IMM 2016 in a new version, with glass shelves and metal dividers: the apparent structural fragility blends in perfectly with the style and material strength of the raw metal.
Dimensions: cm 335x40x210H
Shelves: ash or extraclear tempered glass
QuaDror™ Structure: hard metal
Ash finishes: mocha-stained ash / whitened ash
QuaDror™02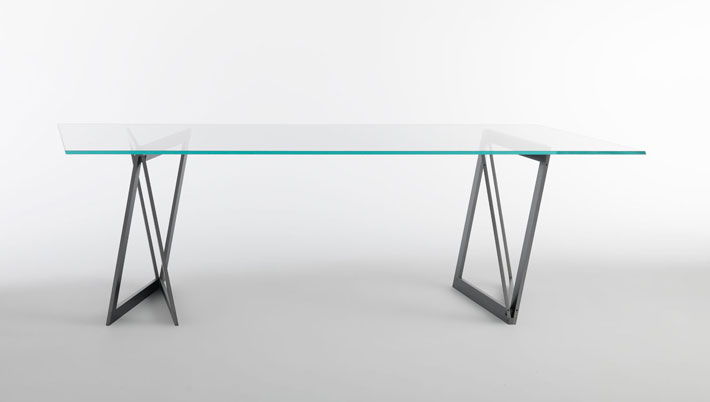 An elegant and lightweight table/desk in an usual shape, which can decorate and even take centre stage in any interior.
Dimensions: cm 250x120x74H or cm 280x120x74H (mitre-cut or rectangular)
Top: extraclear tempered glass
QuaDror™ Structure: hard metal / solid ash
Ash finishes: mocha-stained ash / whitened ash
3. CARLOS: NEW FINISHES FOR YET ANOTHER BEST-SELLER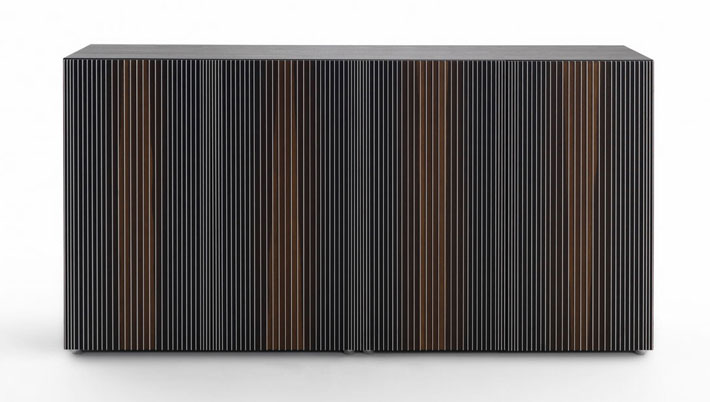 Carlos is a furniture item designed by Renato Zamberlan as a tribute to the work of Venezuelan artist Carlos Cruz-Diez, one of today's most influential artists and one of the founding fathers of Optical Art.
The doors, entirely handcrafted by HORM.IT, mimic the optical effects of Cruz-Diez's art through irregular shades of burnt oak, enhanced with metal inserts. This helps the viewer interact with the unit itself, which appears different from every viewing angle, creating the effect of a curtain opening and closing.
A few months on from the product presentation, the artist himself wanted to meet the designer in Paris and congratulate HORM.IT on being able to convey his artistic principles – by which art does not belong in museums but rather in everyday life – through a piece of furniture. This meeting was documented by a storytelling video which is presented and made available for the first time at IMM Cologne 2016.
Since its inclusion in HORM.IT catalogue, Carlos has become a bestseller. The company is now presenting it in Cologne with a new "dark" look (mocha finishing).
Dimensions: cm 96x49x98H, 144x49x66H or 98H, 192x49x66H or 98H, 240x49x66H or 98H, 240x49x98H
Body: white lacquered / mocha beech
Doors: thermo-treated oak
4. SINAPSI: MODULARITY AS A FORM OF CREATIVE EXPRESSION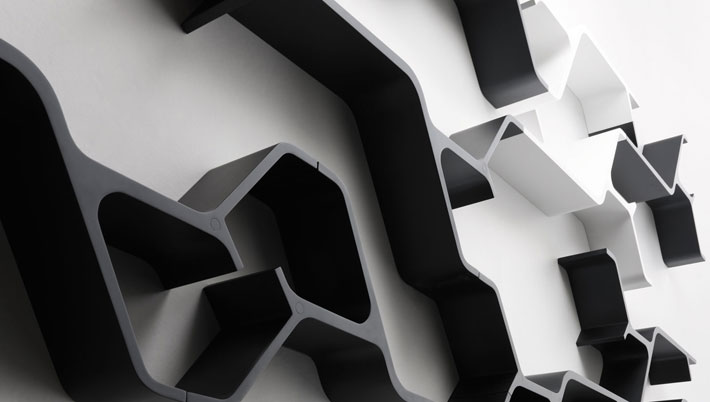 Chilean artist Sebastian Errazuriz applies his creativity to everyday objects by transforming, reinventing and satirising them. His somewhat artisan approach, together with HORM.IT manufacturing expertise, have led to the creation of Sinapsi – a modular shelving unit made up of a single element that can be combined to infinity and in any direction, following the impulses of the human brain.
Man's memory therefore becomes physical and visible: Sinapsi is a collector of objects, books and memories.
Simply put, Sinapsi is the solution for those who understand modularity as something other than the monotonous repetition of elements. It is for those who seek the freedom to create a unique piece of work with customisable shapes and colours.
Dimensions: cm 130x21x60H
Structure: high density expanded polyurethane RAL lacquered
HORM.IT
www.horm.it
marketing[@]horm.it
Tel. +39 0434 1979 101