The New Brand Identity
People at the heart of the project
In 2017 the Horm Group acquired the prestigious Casamania brand, as part of a broader development strategy that the group is carrying out, with strength and determination. Following this event it was necessary to review the Brand Identity of the group and of the individual brands, in part to make it clear to the public what path Horm and Casamania will take in the years to come.
A combination of products for both the Home and Contract sectors, in which both brands participate, maintaining their own philosophy and identity, while constantly seeking convergence, thanks to a profound restyling of individual products, with new colors, new veneers and even new shapes.
The graphic design for the two brands is the same, so as to underline their complementarity.
A graphic grid on which to build the design book: regular and equal spaces vertically with expertly disproportionate divisions lengthwise.
Font: a minimal and trendy stick font (Ano) combined with a graceful, elegant and refined font (Elektra).
Colors: the Graphite Gray that has characterized the image of Horm in recent years, combined with orange, the social color of Casamania in its early years. In addition to the not to be left out Black and White.
A new Graphic Symbol shared by both brands: The common symbol stems from the desire to encircle the two souls of the group and to share the project idea: the letters H and C, in addition to being the two brands' initials, are above all the initials of Home and Contract, the markets that the group works in.
H and C blend together in a symbol representing a human figure, because PEOPLE are at the center of this project in all their everyday expressions: eating, sleeping, reading, resting, loving, studying, displaying, storing, filing, working, etc.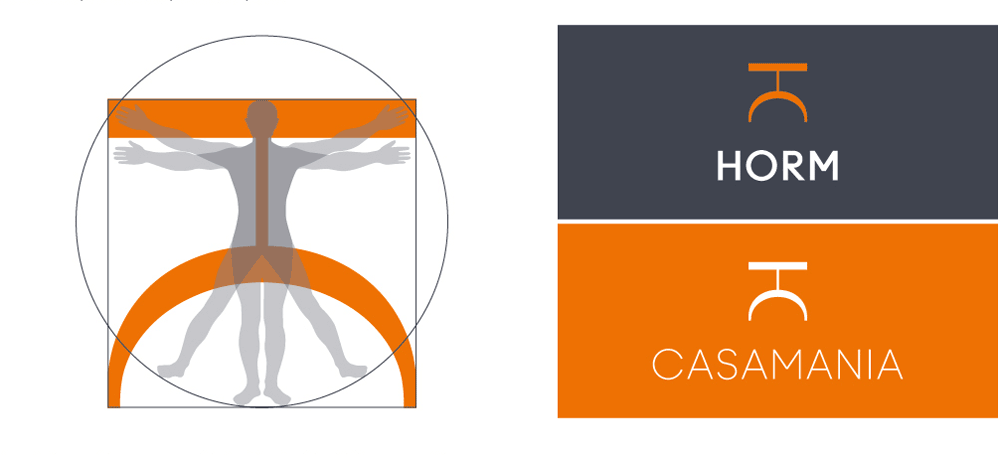 Each element represents the dichotomy of the 2 brands:
Horm strives for elegance and luxuriousness and is minimalist and sober, marketed for an older generation seeking intimate luxury;
Casamania is more ironic and playful, with lively and passionate experimental and proactive shapes, it is therefore also more transverse and less easily placed in a pre-established pattern.
Home and Contract, whispered elegance and irony, luxury and practicality, proportions and disproportions, harmony and contrast, craftsmanship and seriality, reason and emotion.
PRESS OFFICE HORM ITALIA Srl / T. +39 0434 1979 101 / marketing@horm.it