Horm and Casamania dialogue in Archiproducts Milano spaces
For Milan Design Week 2018, Horm, an award-winning brand and stage for world-renowned architects, which has worked in the high-end residential sector since its inception, and Casamania, an ironic, playful and innovative brand known for its versatility in contract design, will be presenting for the first time together with a common brand identity characterized by a logo that contains the initials H and C, from Home and Contract respectively.
The two brands will present the collection of Horm's Tout le Jour sofas, chairs and coffee tables and the iconic Network bookcase by Casamania to the Archiproducts Milano audience. These furnishings have been selected for the new installment at via Tortona 31, which will last until March of 2019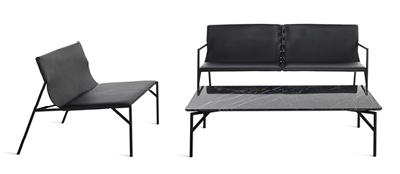 Tout le Jour, designed by Marc Thorpe, stands out for its elegant and minimal connotations, embellished by a careful and refined choice of materials. The skilful combination of minimalism in the painted metal structure with the precious marble texture of the table top and the full-grain leather of the chairs conveys to the viewer sensations of harmony, elegance and uniqueness, both at a visual and at a tactile level.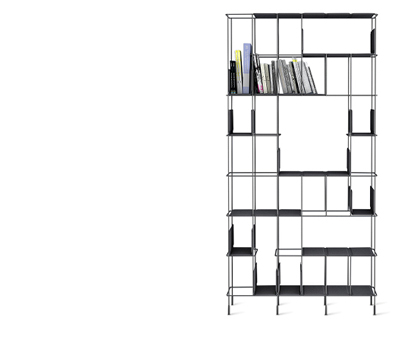 The Network bookcase is the result of a collaboration between Studio Neuland: Paster & Geldmacher and Casamania. It is an extremely light and refined display solution that offers numerous combination possibilities due to the fact that it is modular. The magnetic shelves covered in eco-leather interact with the metal structure and are placed on it according to user need. The complete personalization of the bookcase thus allows for the rhythmic creation of empty and full spaces, changeable at any time.
Two products that represent a true interpretation of two different and well-defined brands however constantly evolving and collaborating with each other and able to swap between each other and to dialogue in carrying out any project whether it be residential or contract, understood as a collective space for hospitality and hotel businesses.
Horm and Casamania: a single large group, at the center of which, even before discovery and innovation, are PEOPLE, with all of their expressions of everyday life.
PRESS OFFICE HORM ITALIA Srl / T. +39 0434 1979 101 / marketing[@]horm.it